MI Upper Schoolers have landed in the TOP 3 participants in the FedEx/Junior Achievement International Trade Challenge 2021. Yaeli Abraham and Raine Nakpil's Safety Bank is one of the Top 3 amongst 182 teams in the JA-ITC 2020-2021.
They will represent the Philippines and move on to the Asia-Pacific Regional Finals.  The FedEx Express / JA International Trade Challenge (ITC) is a competition organized by JA Asia Pacific, and sponsored by FedEx Express. 
Raine and Yaeli worked on The Sentinel, an emergency tracker and alert device. It also doubles as a flashlight, powerbank, strobe light, and siren for emergencies and calamities.
The ITC aims at nurturing the entrepreneurial spirit and business skills of students.  During the event, students work to create international market entry strategy plans for a given product and target market.
The Multiple Intelligence International School, through opportunities such as these, continues to encourage and pioneer youth entrepreneurship in the Philippines.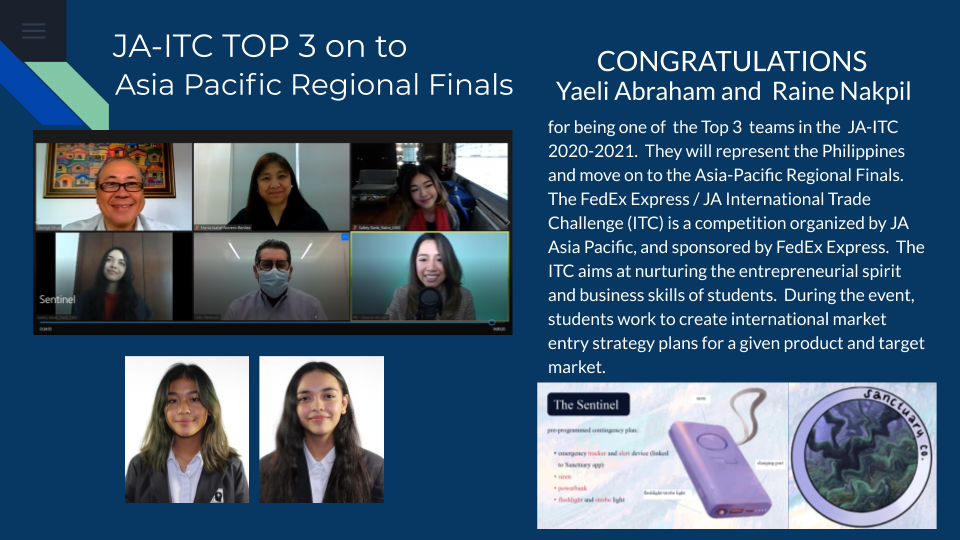 ABOUT MIIS
The Multiple Intelligence International School is an international progressive school that advocates for the development of the multiple intelligences of the students. We believe in supporting the development of various strengths in students. For more information, contact Multiple Intelligence International School at +63 2 3433 4949 or through admin@mischool.edu.ph. You may also visit www.mischool.edu.ph/about.
Applications for SY2021-2022 are now open.